Dr Matthew Cardone – Doctor from Tweed Heads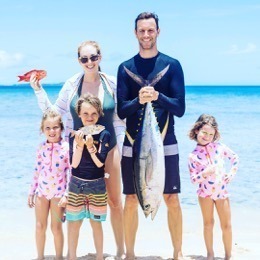 My family and I travel regularly to an island in South West Fiji called Tavarua. It's a magic island, shaped like a love heart. Tavarua is primarily set up for surfers. It is close to not one but two world-class reef breaks nearby – drawing surfers from around the world. The most famous surf break "Cloudbreak" is home to the Fiji leg of the World Surfing Tour. The island is a fantastic destination for families, with idyllic white sand beaches, great for snorkelling, the coral is astounding. The reef fish are beautiful. The water is warm. The dolphins are friendly and the fishing is fantastic. The only thing better than the place is the people. Never have I experienced a happier, warmer and kinder culture.
We have made wonderful friendships on this island over the last 8 years. In the last 3 years we have made an effort to "give back" to the Fijians by offering medical and educational aid to the two villages where most of the island staff reside.
At first we were flying blind. We had no real idea what the villages needed or exactly how we could help. We knew they had very little, but where to start? The Fijian people are very humble and won't ask for things, even when you are asking!
We wanted to ensure that the services and goods we donated benefited the community at large and that we were actually helping, not hindering. You'll often see tourists handing out lollies in Fiji…. a country with a huge obesity, diabetes and dental hygiene issues.
Your best intentions can actually do more harm than good if you don't research the community you wish to help. This applies to all third world countries.
So here are our family's tips created from our personal experience with benevolent donations and medical assistance to this part of the world. These tips should easily translate to anyone undertaking voluntary aid work or offering donations to a third world community:
1. Have a chat and ask a local. You need to know who's who. For us getting in touch with community nurses and school teachers was the key. This will also help to ensure you don't step on anyone's toes! Being culturally sensitive is very important.
2. Always start with the basics. The schools did not have soap or toilet paper, tissues or bandaids. So we sourced these items for them.
3. You'll never go wrong giving time and goods to schools. Everyone benefits from a child's education.
4. Be aware of consumables and things that require batteries or servicing. For example the Fiji school had a pile of old printers they could not get ink for.
5. Health care providers can often feel helpless visiting areas with limited access to medical care. It's important to remember the limits of your time, location, facilities and support. Interventions are rarely suitable, if you can't mange the patient or offer ongoing care through another provider you should offer advice not care. Focus on primary prevention. That's what creates long term change.  We provide first aid, hygiene and nutrition classes to the school children and provide them with toothbrushes and tooth paste.
6. Put the word out! People are always ready to give!  We always put a call out to family and friends to help supply us with school books, supplies, clothing, first aid equipment.
Happy travels