Travel Recommendation; Sri Lanka
Ayubowan Readers! "Ayubowan" is the word used in Sri Lanka to greet someone
Sri Lanka is a small Island off the south east tip of the Indian subcontinent. Measuring a total area of 65 610km, it is home to 20.5 million people (2013). Until 1972 the island was known as Ceylon, however still goes by many other names such as "The pearl of the Indian Ocean" and "The teardrop of India". Colombo is the nation's commercial and capital city. 
For a traveller, Sri Lanka has a lot to offer. There is an abundance of beautiful beaches, dazzling hill country with carpet-like tea plantations, wild life and national parks, and eye opening historical sites.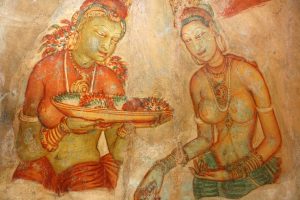 Sigiriya rock, is a hidden jewel in the jungle of Sri Lanka and is a real eye opener to local and international tourists. An ancient 5th Century palace, located in the Central Province, near the town of Dambulla. During a recent holiday in Sri Lanka, I visited this amazing site, with the intention of climbing to the top, but left with a wealth of knowledge about the rich history of this national landmark.
The rock itself rises about 200 metres about the surrounding jungle plain. It is a vast historical monument, which locals refer to as the "eighth wonder of the world". The site itself contains ruins of an ancient palace, fortress complex, and gardens of King Kasyapa, in a fine example of 5th Century urban planning.
The main entrance is located at the northern side of the rock, and in its heyday used to resemble the mouth of a lion. However over the years, only the feet of the giant stone lion remain. The western wall of the rock cave displays frescoes of nude females created during the reign of the King, which symbolise feminine beauty. A park for the royals is also visible, containing water retaining structures and hydraulic systems, which are still functional today. An amazing feat for something completely made by hand.
The gardens of Sigiriya are among the oldest landscaped gardens in the world, consisting of three types: a water garden, cave and boulder garden, and terraced garden.
UNESCO declared Sigiriya a World Heritage site in 1982 and it attracts a large number of tourists every year.
For more information about Sigiriya and Sri Lanka in general, refer to the below links.
Australian Government Smart Traveller website
Submitted by TMA Boronia
Written by Dr. Chris Davenport