Zika Virus outbreak in Brazil causes panic
Dr Donald Leitch Shoal Bay and Anna Bay TMA clinic NSW
The mosquito-borne Zika virus was first recognised in Brazil in May 2015. Brazilian authorities estimate that between 500,000 and 1.5 million people  have caught Zika virus in the past year. Zika causes a relatively mild flu like illness in most persons – a bit like Dengue fever.
The panic is due to an unprecedented increase in the rate of a birth abnormality called microcephaly (which means tiny brain ) The infant is born with a severely underdeveloped brain. These infants either die soon after birth, or suffer severe, lifelong intellectual impairment. The condition is not treatable. This year, the frequency of this abnormality has increased over 10 times compared with previous years. So far over 3,000 babies have been affected. It is believed this tragic brain abnormality may be associated with the mother catching Zika virus during her pregnancy.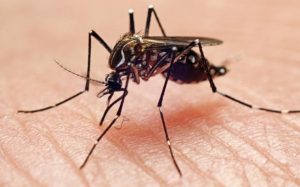 Although a link between the two isn't definitely established, the Brazilian government has taken the unprecedented step of advising women to avoid pregnancy until the crisis has been solved. Other authorities advise pregnant travellers to avoid visiting areas affected by Zika virus.
This outbreak highlights yet again the danger of mosquito bites as a cause of disease and adds to the list of of arboviruses (arthropod borne viruses) that occur in epidemics around the world including Dengue, West Nile, Yellow Fever, Japanese encephalitis and Chikungunya as well as our own Australian Ross River Virus, Barmah forest virus and the more serious but rarer Murray Valley Encephalitis.  Of the many arboviruses reported immunisation is available against only three- Yellow fever, Japanese encephalitis and European tick encephalitis although there is a Dengue Vaccine under development. There is currently no vaccine for Zika virus.
Authorities in Brazil suspect the Zika virus may been introduced to the mosquitoes by  foreign visitors.  This is disputed by other experts.
The history of the Zika virus started over 50 years ago. In 1947, scientists researching Yellow Fever placed a rhesus macaque in a cage in the Ziha forest near the East African Virus Research Institute in Entebbe, Uganda. The monkey developed a fever, and researchers isolated from its serum a transmissible agent that was first described as Zika virus in 1952. Zika virus was found in a human in Nigeria in 1954.  In April 2007, the first outbreak outside Africa and Asia occurred on the island of Yap, Micronesia. More recently, epidemics have occurred in Polynesia, Easter Island, the Cook Islands and New Caledonia. Zika virus is not endemic in Australia but cases have been imported..
Patients with Zika suffer symptoms similar to those caused by many other arboviruses including headaches, rash, fever, malaise, sore joints and red eyes.
The mosquitoes that spread Zika are aggressive daytime biters, often found indoors in urban areas so avoiding mosquito bites is important. Pregnant women should avoid travel to areas where Zika epidemics are current, especially in the first half of pregnancy. Even though the link between Zika and microcephaly is not confirmed, it is prudent to err on the side of caution.
The Olympics are being held in Rio this year, so athletes and spectators going to Brazil are recommended to protect themselves from mosquito bites. The following is advice from the Centre of Disease Control( CDC )  in Atlanta, USA
·    Use insect repellents containing DEET, picaridin, IR3535, and some oil of lemon eucalyptus and para-menthane-diol products provide long lasting protection.
·    If you use both sunscreen and insect repellent, apply the sunscreen first and then the repellent.
·    Do not spray insect repellent on the skin under your clothing.
·    Treat clothing with permethrin or purchase permethrin-treated clothing.
·    Always follow the label instructions when using insect repellent or sunscreen.
·    When weather permits, wear long-sleeved shirts and long pants.
·    Use air conditioning or window/door screens to keep mosquitoes outside. If you are not able to protect yourself from mosquitoes inside your home or hotel, sleep under a mosquito bed net.
·    Help reduce the number of mosquitoes inside and outside your home or hotel room by emptying standing water from containers such as flowerpots or buckets.
Infectious diseases can spread around the world very fast, so it is very important to get reliable up-to-date  travel health advice before you go.  Ideally you need to see a doctor experienced in travel medicine – as all TMA doctors are.
In addition we strongly recommend you read "Travelling Well"  a book about healthy travelling written by TMA Medical Director, Dr Deb Mills ( here )which is regularly updated. An app version of the book can be found here.
Also,  if you suffer a feverish illness within a month of returning from overseas, you may need doctors advice sooner rather than later.
Dr Donald Leitch Shoal Bay and Anna Bay TMA clinic NSW